by John Earp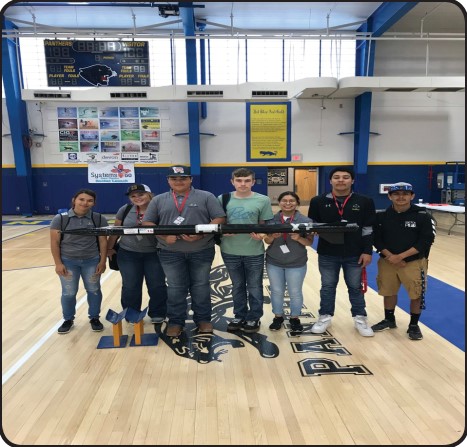 This past Tuesday and Wednesday, the third annual New Mexico SystemsGo New Mexico Launch Event was held at the Woolworth Ranch, with 15 schools participating from New Mexico and Texas. Schools which were scheduled to send rocketry teams to the SystemsGo Launch included Fort Sumner, Goddard, Grady, Hobbs, Roswell, Lake Arthur, Odessa New Tech, Loving, Hagerman, Dexter, Lovington, Elida, Kermit and Jal. According to Coach Nathan Richard, Jal High Rocketry Teacher, the Kermit Rocketry Team did not participate in the launch this time. The Jal Rocketry Teams were scheduled to launch early Wednesday morning. Richard said that the launch event schedule was expanded to two days this year, due to the increase in the number of teams and rocket launches over last year. He said, "Last year, we had fewer schools and fewer rockets, and it was a long day still," adding, "If they have to go to a third day, they've scheduled stuff for Thursday too."
Richard said safety and simulation numbers are top priority before any launch. Jal has two sophomore rocket teams this year, each of which will launch a rocket designed to take a onepound payload one mile in the air. Jal also has one team of upper classmen this year who will be launching a transonic rocket, designed to break the speed of sound. Richard says the windy conditions can become a factor in the launch process, especially if wind speeds exceed 20 miles per hour, but that it really depends on rocket design.
Richard said that the teams have done almost all the work on their rockets this year during their rocketry class time, with only a minimal amount of time spent on rocketry outside the normal class time. Richard says that hopefully the Jal High Rocketry Program will expand yet further in coming years, with the next possible level being what he calls "a serious rocket" that is designed to launch a 30-pound payload 100,000 ft. into the air, and which is launched at White Sands Missile Range.
Rocketry Student Aileen Rodriguez, one of the project managers on the supersonic rocket team, says that learning rocketry has involved a lot of problem-solving and dealing with a lot of changes that come unexpected, where "you are kind of really forced to find a solution. I think that's been the most helpful." She says that the rocketry program requires the teams to work together. She says, "I think at this age, everyone likes to be right, so whenever problem arise, everyone has something to say about it, but we need to [determine] logically how is this going to work." She says, "There's a lot of tension towards the end of the year, but I think when our rocket gets off the launch pad, that's when it gets rewarding." Rodriguez says she doesn't plan on going into rocketry or a directly related field after high school. Her plans are to attend Texas Tech University to study interior design.
Jal Rocketry Teams this year included Jessa Baeza, Gabby Zavala, Chelsea Fulfer, Daniel Jones, Alexys Peugh, Anthony Bahena, Garrett Frazier, Reyna Montoya, Chloe Earp, Josh Cervantes, Nate Galindo, Arial Lopez, Isaiah Melancon, Colton Butts, Aileen Rodriguez, Junior Ibarra, Ramiro Sanchez, Codi Alexander, Dylan Goolsby, Karina Nieto, and Kristian Serna.