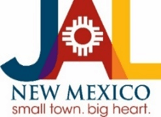 CITY OF JAL COUNCIL
REGULAR MEETING AGENDA
Monday January 27th, 2020 – 5:30 pm
Council Chambers, City Hall, 309 Main – Jal, NM
COUNCIL CONVENES
CALL TO ORDER

ROLL CALL

PLEDGE OF ALLEGIANCE

INVOCATION

MAYORS COMMENTS

APPROVAL OF AGENDA

APPROVAL OF JANUARY 13th, 2020 REGULAR MEETING MINUTES
PUBLIC COMMENT (Limit to 3 minutes)
JAL YOUTH ADVISORY COUNCIL
TREASURER REPORTS
a. Signor/CED Lease Reports
b. GRT Monthly Tax Report
d. Accounts Receivable
e. Accounts Payable
CITY MANAGER REPORT
NEW BUSINESS

Discussion and/or action on approval or disapproval of Liquor License Application #1152055 for Casey Savoie DBA D Bar Café.

Discussion and/or action on employee housing lease agreement
Consideration of approval for:
Resolution #2020-22, authorizing mid-year budget adjustments

Resolution #2020-23, authorizing the closure/vacation of a portion of Nebraska Ave

Resolution #2020-24, authorizing an application to the 2020 United States Department of Agriculture (USDA) ReConnect Broadband Infrastructure Development grant program
ORDINANCE

First Reading of Ordinance #2020-4, authorizing the publication of an ordinance enacting and adopting supplement 2019 S-8 to the code of ordinance for the City of Jal, NM

First Reading of Ordinance #2020-5, authorizing the publication of an ordinance amending Title XV; Land Usage, Chapter 154: Zoning / Zoning Districts; Boundaries; Map/ §154.16 District Boundaries Described
CLOSED EXECUTIVE SESSION ON CONSIDERATION OF LEGAL MATTERS
Closed Session to discuss matters subject to the attorney-client privilege relating to pending or threatened litigation, pursuant to NMSA1978, SECTION 10-15-1 (H)(7) and to discuss the purchase, acquisition or disposal of real property or water rights, pursuant to NMSA 1978, Section 10-15-1 (H)(8):
Dinwiddie N/K/A Intrepid Potash and Beckham N/K/A NGL water rights protest

State of NM/City of Jal ex rel Micah Taylor v. Beckham Ranch Inc.

Constructors Inc. – waterline project
Public Hearing
CITY OF JAL
Monday, January 27th, 2020 – 5:00 pm
Council Chambers, City Hall, 309 Main – Jal, NM
WORKSHOP CONVENES
Call to Order

Pledge of Allegiance

Invocation
NEW BUSINESS
Discussion on approval or disapproval of Liquor License Application #1152055 for Casey Savoie DBA D Bar Café.
ADJOURN
If you have an individual with a disability who is in need of a reader, amplifier, qualified sign language interpreter, or any other form of auxiliary aid or service to attend or participate in the hearing of meetings, please contact the Jal City Clerk at 575-395-3340 at least one (1) week prior to the meeting or as soon as possible. Public documents, including the agenda and minutes, can be provided in various accessible formats. Please contact the City Clerk if a summary or other type of accessible format is needed.